Rapid Holding Systems Ltd. has been in business for over 20 years and has a diverse product line to serve our many customers in various industries. Our management staff is dedicated to supply quality products and services to our customers for their EDM and Wire EDM work holding needs. Rapid Holding Systems is continuously developing new modules for robotic loading, and also for manually operated systems where automation saves operator's loading time and improves ergonomics. Rapid Holding Systems EDM and Wire EDM tooling quickly and Precisely set up the machine with minimum idle time. Our Innovative workholding technology helps you raise your game and increase your competitive edge. We are looking forward to a long-term relationship with our customers and want our customers to have a superior buying experience, every time.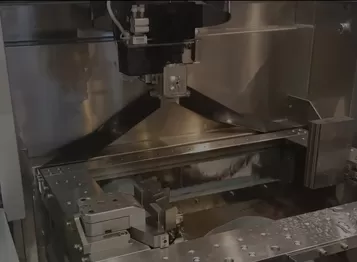 Rapid Holding Systems
Supplier of quality EDM, WEDM and CNC tool holders to the global market. We pride ourselves on the highest quality System 3r and Erowa Equivalent tooling for EDM, Wirecut EDM and CNC at affordable pricing. Rapid Holding Systems ships workholding tools worldwide. System 3r compatible Macro, MacroJunior, MacroMagnum for equivalent 3r chucks, 3r pallets, 3r drawbar, 3r vises. Erowa Tooling System: RHS provides precision quality equivalent Erowa EDM tooling and wire EDM tooling at fraction of cost. RHS is a one-stop-shop for Dovetail fixtures, Self-centering vises, Wire EDM tooling for Sodick, Mitsubishi, Agie Charmilles, and various Wire EDM machines.https://www.rapidholdingsystems.com
RHS EDM Workholding
Rapid Holding Systems makes it easier for you to find the perfect fit for your EDM work holding needs. We provide you with Perfect system 3R/Erowa Equivalent Parts so as to help you unlock the full potential of your machines. Used Tooling On RHS offers Used EDM Tooling and Used Wire EDM tooling in a good condition at fraction of cost. Used Machine tools by RHS is well calibrated and tested before delivering to the customer. Reach us for used industrial equipment and used CNC tools for sale.https://rapidholdingsystems.com/shop/
RHS Wire EDM Workholding
Rapid holding systems offer a wide variety of high precision extension clamps, Wire EDM Vises, Rails/Macro mounting heads, dovetails/Reference elements for Wire EDM Machines. Rapid holding systems provide Wire EDM tooling for all models of Makino, Sodick, Charmiles, and many more wire EDM machines for clamping workpieces. Get customized wire EDM claiming beams or rulers and reference elements for various wire EDM tooling needs.https://rapidholdingsystems.com/product-category/wire-edm-tooling/
RHS CNC Workholding
We aim to be the world's foremost manufacturer of innovative Self-centering vises and Flexible clamping fixtures. Rapid Holding Systems Self-centering vises help provide greater precision for drilling, tapping, boring, and finishing applications by keeping workpieces in a secure position.https://rapidholdingsystems.com/product-category/vises/
Rapid Holding Systems-The best in the business.
Rapid Holding Systems makes sure that their customers are satisfied with the product they purchase. Therefore we stand behind our product for life. Rapid holding Systems ensures customer satisfaction by providing technical support for the product. Customers can contact company's phone line or email to get help with how to use their product. If you need a company that will support you and your goals, we are the team for you. At Rapid Holding Systems, we're passionate about delivering the best, most innovative products and services to you. We always want to make sure that you're satisfied with your purchase and that we're doing everything we can to serve your needs. We want to make sure your return experience is hassle-free. That's why we provide a return policy that will make it easy for you to get your money back. We are a customer-centric organization that provides the best customer service, products, and experience .https://rapidholdingsystems.com/terms-conditions/